Barbecue Pork Ribs with Honey Chipolte Marinade
This barbecue pork ribs recipe is one of my favorites. I love me some ribs, but only if they are cooked right and have enough meat on them.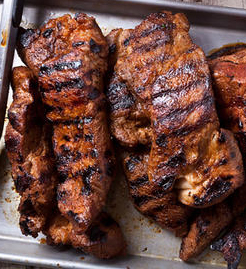 This tasty recipe is for pork ribs, but you can substitute beef if you prefer. Either way, you will thoroughly enjoy this easy dinner recipe.

I don't settle for those thin rib racks, unless I can make a half rack for everyone. I prefer the larger, thicker cut pork ribs that actually have more meat than bones. You can cook the thinner ones with this recipe as well, but the times will be a little different since the racks of ribs cook quicker.

For this recipe, I speed up the grilling process a little by precooking the pork ribs by boiling them, otherwise it seems to takes forever to cook them on the grill. Unless you have a long time to cook, then you can just cook them on the grill.

SIDE NOTE: If you choose to cook beef ribs, do not boil them. Beef cooks fine on the grill; you'll just have to adjust your cooking time by a little bit.
---

Honey Chipolte Barbecue Pork Ribs

Ingredients:

Two (2) Pounds Pork Ribs (Individually Cut, Thick)
Ingredients for Boiling:
Two (2) Tablespoons Minced Garlic
One (1) Whole Apple, Pealed and Chopped
One Half (1/2) Sweet Onion Chopped
Four (4) Cups of Water

Ingredients for Marinade (after or if not boiling):

Two (2) Tablespoons Worcestershire Sauce
One (1) Bottle Honey Chipolte BBQ Sauce
Two (2) Tablespoons of A1 Steak Sauce
One (1) Teaspoon Ground Pepper
One (1) Tablespoon Soy Sauce
---

Food Preparations

Place water, minced garlic, chopped apples, and chopped onions, into a large pot and bring water to a rolling boil. Once boiling, add two pounds of pork ribs to the water. Let the ribs boil for fifteen (15) minutes.
Remove ribs from boiling water and place them in a large container. Let the ribs cool for ten (10) minutes. Add the marinade ingredients to the container and vigorously shake container until all of the ribs are thoroughly coated with marinade. Let ribs sit for twenty (20) minutes in the marinade.

SIDE NOTE: If you prefer not to boil your ribs first or if you are using beef ribs, skip the boiling steps for your barbecue ribs recipe and go straight to the marinade.


---

Cooking Barbecue Pork Ribs
Make sure, as always, to preheat your grill and burn off anything on the cooking racks. Turn the temperature down and let the internal grill temperature reach 350 degrees. Place the ribs evenly on the grill grates, meaty side down.

Rotate the meat one quarter (1/4) turn every four minutes, brushing the remaining marinade on each rib throughout the entire cooking time. Do not brush marinade on the ribs during the last flip.

Cooking time for the barbecue pork ribs is about twenty (20) minutes depending on how thick the meat is. Grill for about one (1) hour if you skipped the boiling step.


---

Nutritional Information

The above Barbecue Pork Ribs recipe makes four (4) meal servings (4 large ribs). (The below nutritional facts are based on one meal.)

Calories 395

Total Fat 13g
Cholesterol 0mg
Sodium 573mg
Potassium 0mg

Total Carbohydrates 9g
Dietary Fiber 1g
Sugars 1g

Protein 31g


---
Check out more barbecue recipes like this barbecue pork ribs recipe.

Do you like this recipe? I'd love to hear about it. Be sure to share your experiences with this recipe above.

If you decide to change the recipe a little, please submit your recipe and give other people ideas on how to cook their ribs.