Food Safety in the Home Kitchen
Food safety should be your main concern anytime you are in the kitchen handling, preparing, cooking, and storing any type of food. Even after dinner is cooked, keeping foods safe for the family can be a tedious task.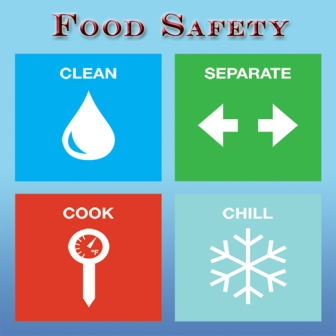 As a cook for your household, the last thing you want is a house full of sick family members after a seemingly great dinner. If you really think about it, it doesn't take all that much for food to become contaminated with bacteria, viruses, and other germs that can make everyone ill.

There are many things to consider when thinking about the safety of your food. This is especially important when dealing with perishable foods around your kitchen.


---

Food Safety Concerns in and Around the Kitchen

I've broken down all of the safety concerns for food into the following categories. These topics should be on your mind all of the time when you are in the kitchen. The preservation of your family's health depends on it.

1. Food Preparation. Preparing different ingredients for dinner sounds simple enough, but there are a few key rules to remember when handling and preparing meats and vegetables for this large meal. There are several considerations to take into account while preparing foods for dinner, storage, or any other meal.

2. Food Temperatures. Just winging it when you are cooking is the easiest way, but also puts your family at risk for food borne illnesses. Knowing when your food is "done" by checking its temperature is a surefire way to keep everyone from getting food poisoning. Included with this is know meat cooking times or how long to cook meat. Every meat is different and takes a different amount of time to cook. Knowing these times will help determine when your food courses are ready to serve and also ensure food safety is achieved.

3. Food Storage. Properly storing your foods before and after they are cooked will help lower the risk of food contamination that can ruin your food. Knowing storage methods and temperatures will help maintain this healthy standard in your household. Proper storage also frees up a lot of space so you actually have room for everything.


---
If you have any concerns about the safety of your food, or if you have any questions about food safety that you are having a difficult time finding an answer for, ask me and I will help you research it. I want you to have a safe and healthy dining experience and it all starts here.