Holiday Dinner Recipes for the Perfect Meal


Holiday dinner recipes aren't much different from regular dinner, though these special days are normally when the big, cook once a year meals come out of the old recipe book.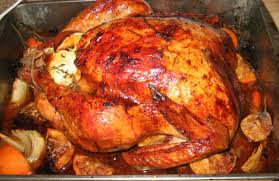 There are several major holidays throughout the year that usually call for a big dinner for lots of people, mainly family or close friends. These holidays are Thanksgiving, Easter, Christmas, Fourth of July, Labor Day, Hanukkah, New Years Eve, Kwanzaa, and many more.

On these special occasions, there are generally five or more guests to feed and each family usually brings a main course item or side dish for the feast. These times are few and far between, so everyone wants to go all out to cook the best foods using the family recipe dating back many years.

With holidays always coming up rather quickly, you need to find recipes you haven't touched in years to impress your guests. I would like to save everyone the trouble by posting all of your favorite holiday dinner recipes here so you can easily find them when you are looking and so others may try them and add them to their holiday menus. Feel free to send them to me and give me a little history on why you enjoy these recipes on the holidays.


---

Holiday Dinner Recipes from Around the World

Below are holiday dinner recipes to cook for various large dinner gatherings from all around the world. I will add new ones to the site as they are received to grow a nice selection for everyone.

How to Cook Turkey
---

Don't Be Afraid to Cook for a Crowd on the Holidays


Holiday dinner recipes are always something people become frightened of, mainly because of their portion size. In the days leading up to a major holiday, most people balk at the idea of having to cook for so many people.

Right about now, images of huge stockpots boiling over and you becoming chained to a hot stove and oven all day come to mind. It's no wonder so many people want to avoid cooking food for the holiday.

You don't have to be afraid to cook dinner for the holidays. It's just like cooking any other time, just with more portions. That means more time must be spent planning the dinner than cooking. Cooking is the easy part.

The main thing to consider is how many people will be showing up for the holiday dinner? You can expect everyone to be hungry because they've been waiting all year for this special dinner, so add that into your portion consideration. Once you have an idea of how many mouths and to feed and stomachs to fill, add two more portions for good measure.

When looking at your recipes, take the number of servings you've come up with and do a little math with your recipe. Adjust all of the ingredients accordingly so you can feed all of your guests. That means if you have ten people coming and the recipe calls for 1/2 tablespoon of garlic for 3 servings, add 1 1/4 more tablespoons of garlic to the recipe.

Don't worry, the recipe conversions are easy with this recipe converter tool. This makes recipe planning for the holidays easy and stress free.


---

I know everyone has that one special recipe they love to cook for the holidays. Please share your holiday dinner recipes with me and I will add them to my site so everyone can enjoy them. Don't hold anything back.