Best Guacamole Recipe to Compliment Dinner
Finding the best guacamole recipe that's worth your effort can be a tedious task. Finding this recipe will stop that search in its tracks. This popular pre-dinner alternative to salsa will be the only appetizer you need to satisfy your guests before the big feast.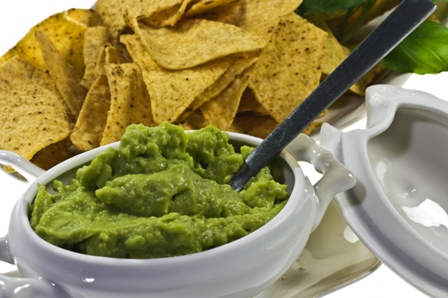 As a fruit and vegetable inspired dip, there are many different ways you can create this dip. It can be very healthy without losing any of the flavor, making it perfect for the whole family and all of your friends.

The hardest part about this recipe is finding fresh, ready to peel avocados that are soft enough to mash. If they are not ripe enough, they will be very difficult to smash down enough to make a creamy paste. Not good if you are trying to impress your friends. Learn how to pick and buy ripe avocados for your guac recipe.

Guacamole can be considered a salad and was first created in the 16th century by the Aztecs. Over the centuries, many recipes have surfaced bringing you all of the different variations that you've come to love today.

Don't waste your time buying pre-made guac from the supermarket. The packaged version of this amazing dip is full of preservatives that can take away from the health benefits. The use of lime juice in your recipe will help the guac stay fresh longer so it will not lose its pretty green color.

It doesn't take very long to make guacamole dip. And all of the ingredients can be found at most wholefoods or retail supermarkets, so it doesn't take much to put everything together. In less than an hour, you will be serving the most popular appetizer in the history of Cinco de Mayo and the Super Bowl.

Enjoy the best guacamole recipe the next time you have a get together with family and friends.


---

Best Guacamole Recipe

Guacamole Ingredients:

Four (4) Fresh Avocados
Two (2) Whole Tomatoes
One (1) Whole Green Chili
One Half (1/2) Tablespoon of Chili Powder
One Half (1/2) Chopped Sweet Onion
One (1) Fresh Lime for a Squeeze of Lime
One (1) Tablespoon Sea Salt
One (1) Garlic Clove (Minced)

Option: Add a spoonful of yogurt or mayonnaise to the guacamole for a smooth, creamy texture. You can substitute the whole tomatoes and green chili and chili powder with a can of Ro*Tel® Original or Mild Diced Tomatoes and Green Chilies.


---

Preparing Your Guacamole Dip

Carefully cut all four of the avocados in half lengthwise and twist the two halves until they separate. Remove the pit from the center using a small spoon. Scoop out the green meat from the fruit (yes, it is actually considered a large berry that contains a single seed) and place in a medium sized bowl.

Mash down the green avocado into a paste using a large spoon, potato masher, or a traditional Molcajete set. If you want a chunkier texture to your guacamole, use a fork to mash them.

Roll the lime on the counter and cut it in half. Squeeze the half of lime over the top of the mashed avocado.

Chop both tomatoes, the green chili, and half of a sweet onion and add to the bowl. Add one tablespoon of sea salt, one minced clove of garlic, and chili powder to the bowl.

Using a fork or hand blender, mix all of the ingredients together until it is consistent throughout. The best guacamole recipe is complete. Chill for twenty to thirty minutes and serve.


---

Helpful Guacamole Hint

If you make your guacamole dip recipe in advance, there is a very good chance that it will brown over time, even with lime juice in it. Once way to prolong the freshness and color of your guacamole is to place it in a container, pushing it down to get all of the air bubbles out of the mixture. Pour about a quarter (1/4) of an inch of water over the guac, then seal the container. This layer of water will not break down the guac and will keep it from browning. Place the container in the fridge until ready to use. Once ready to serve, pour the water out of the container and stir the guacamole.


---

Do you have the best guacamole recipe that tops mine that you'd like to share? Please do. I am always looking for new recipes.