Best Hamburger Recipe for the Grill


My best hamburger recipe takes the common burger to the next level by adding great flavors and a hand-made look and feel that everyone will love. It only takes a few extra minutes to mix up this awesome batch of hamburger and will taste ten times better than those frozen, thin store-bought ones everyone defaults to when they go shopping.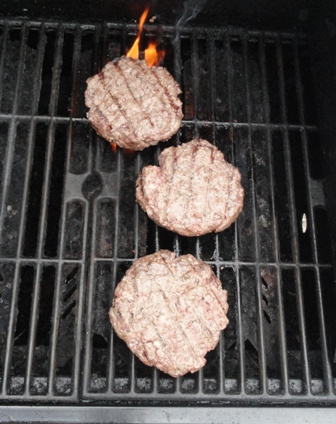 Not only is buying hamburger meat cheaper when you buy it as ground meat, it's easier to make more than one meal with it. If you purchase pre-made burgers, you limit your use of that hamburger meat to just burgers. That and you can't add much to it to make it better.

Making your own hamburgers to cook on the grill can be fun for the whole family, whether they want to help make the burgers or if they just love to eat them. You are never asked, "Where's the beef?" since you are in control of how much meat goes into making your gourmet hamburgers.

So, what makes a hamburger gourmet? Well, if you pretty much hand make your burgers, they are gourmet. Anything mixed inside the meat that adds flavor makes it gourmet. It's just a fancy name that makes it sound like you are cooking a fabulous dinner for your family. And let me tell you, you are and they will love it.

Who wants a boring burger all the time? Change it up every now and then and add some flavor to your burgers with my best hamburger recipe. You don't want to add too much or too bold of a flavor. Just add enough so people will notice the difference and enjoy the change.

The following is my favorite way to make my burgers gourmet and I always cook them on the grill for the best flavor. Enjoy.


---

My Best Hamburger Recipe - Ranch Burgers

Ingredients:

Two (2) Pounds of Ground Hamburger Meat (Beef, Pork, Turkey, etc...)
One (1) Packet of Hidden Valley Ranch Dressing Seasoning Packet
One Half (1/2) Packet of Grill Mates Montreal Steak Marinade
One Half (1/2) Packet of Grill Mates Mesquite Marinade
One (1) Tablespoon Garlic Powder
One (1) Tablespoon Black Pepper
One (1) Tablespoon Worcestershire Sauce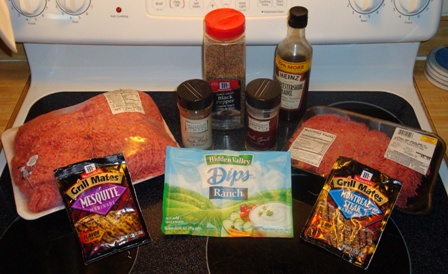 NOTE: The leaner the meat, the less fat drips off in your grill and causes your grill to flame up. You also get less flavor with lean meat, so pick something in between, like 70/30.
---

Preparations for Ranch Burgers

Preparations for the best hamburger recipe are easy. Place the ground hamburger meat in a large bowl. Kneed the hamburger meat in the bowl until it is mushy and the meat is mixed with the fat more than it is when it comes right out of the package.

Push the meat into the shape of the bowl. Pour half a packet of Ranch Seasoning, one quarter (1/4) of the Grill Mates Montreal Steak seasoning, one quarter (1/4) of the Grill Mates Mesquite Marinade, one half (1/2) tablespoon of Garlic Powder, one half (1/2) tablespoon of Black Pepper, and one half (1/2) tablespoon of Worcestershire Sauce in the middle of the meat. Kneed the meat to thoroughly mix the meat and seasonings. Repeat adding the remaining amount of seasonings and kneed the meat once more.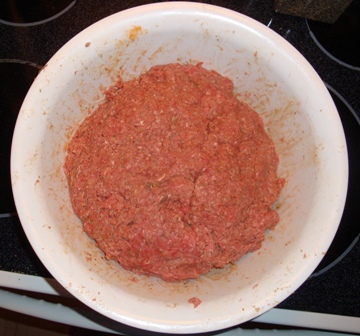 Place wax paper or a large stick free pan on your kitchen work surface and form four (3) to four (4) gourmet hamburgers. It's easiest to make a large ball of meat and smack it down with the palm of your hand to flatten it out. Make sure the meat is packed tightly together. Aim for 3/4 of an inch thick to an inch thick. You also want it to be a little more round than the bun you plan on serving it with.

NOTE: The fattier the meat, the smaller it will be when it is done cooking. Fat burns off of the burger and causes it to shrink. You may start off with a half pound burger and end with a quarter pounder or less.


---

Best Hamburger Recipe Cooking Directions

Heat the grill to about 325 to 350 degrees after burning off all of the grill racks. Place the hamburgers on the racks and cook.

My best hamburger recipe secret for a good juicy burger is slow cooking it at a lower temperature and flipping it often. If the grill flames up, try to arrest the flames by spraying water at the base of the flames. Dripping fat will cause it to flame up more.

Flip the burgers as they cook about every three (3) to five (5) minutes. The proper temperature to ensure the hamburgers are safe and done is 160 degrees, but there may not be any pink in the burgers.

If you are using veal or poultry for your burgers, even if it's just mixed in, I recommend heating it to 165 degrees just to be safe.
If you are going to add cheese to your burgers, do so after the internal temperature reaches 160 degrees. Flip the burger, add the cheese to the ones that are going to have it, then turn the burners off. If you are using a charcoal grill, just close all of the air flaps. Heat the burgers until the cheese is melted.

Serve and enjoy burgers from the best hamburger recipe you can find.


---

If you have made your own recipe or think you have the best hamburger recipe and would like to share it with everyone, please do. The more ideas people get for their dinner ideas, the better off they are.