Chicken Stir Fry Recipe!
My chicken stir fry recipe is always a favorite when it comes to the need for a quick dinner. The best part is the after dinner cleanup because of the need for only one pan to cook the meal.

I love cooking stir fry and make it from scratch. The store bought bag meals are just too soggy once they are cooked and aren't as tasty or turn out too salty or don't have enough flavor. I cheat and use a marinade kit with this recipe, but it makes the best tasting stir fry I've ever tasted.

This stir fry recipe is a perfect all around meal choice because all of a healthy meal's servings of vegetables and meat are all cooked together at the same time. The combination of flavor and simplicity make this dinner recipe preparation fun.

You will love this simple flavorful chicken stir fry with broccoli and onions.
---

Roasted Garlic Balsamic Chicken Stir Fry Recipe
Ingredients:

Two (2) Cups Fresh Broccoli Trees (Just the Heads)
One (1) Cup Cut Sweet Onions
One and a Half (1 1/2) lbs Sliced Chicken Thighs or Breasts
One (1) Pepper (Red, Green, Yellow or Mix) Cut (Optional)
One (1) Quart Bag of Snow Peas (Optional)
One (1) Bag Lea & Perrins Marinade in a Bag "Roasted Garlic Balsamic"
---

Chicken Stir Fry Recipe Preparations and Cooking

It is preferred to do this step twenty-four (24) hours, but this step can be done for ten (10) to twenty (20) minutes if you are pressed for time: Slice the chicken breasts or thighs and place pieces in Lea & Perrins Roasted Garlic Balsamic marinade bag. Shake and chill the marinade bag overnight in refrigerator.

Chop all ingredients to desired size, mix together, and place them in a large bowl.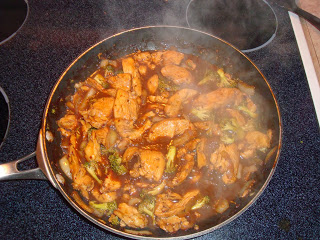 Using tongs, pick out all of the chicken slices from the marinade bag and place them in a wok or large frying pan. Cook on medium-high heat for six (6) minutes, stirring often until chicken is no longer pink inside.

Move the chicken to one side of the pan and pour about two table spoons of the marinade that still remains in the bag to the open end of the pan. Add broccoli and onions (peppers and peas if desired) to the two tablespoons of marinade in the empty side of the pan. Sauté for four (4) minutes on medium high heat stirring occasionally.

Turn the stove top temperature down to medium and add the remainder of the Lea & Perrins marinade from the bag and cook for an additional five (5) minutes.
Remove from heat and serve promptly.

---
SIDE NOTE:
You can add in any other types of vegetables to your chicken stir fry recipe if you want. You can also leave out the meat if you are a vegetarian for a great meal.
---

Nutritional Information for Your Chicken Stir Fry Recipe
The above recipe makes about 6 meal servings of chicken stir fry. (The below nutritional facts are based on one meal.) This meal is packed full of beneficial Vitamin C.

Calories 310
Calories from Fat 50

Total Fat 5g
Saturated Fat 1g
Polyunsaturated 2g
Monounsaturated 2g
Trans 0g

Cholesterol 119mg
Sodium 700mg
Potassium 33mg

Total Carbohydrates 20g
Dietary Fiber 2g
Sugars 20g
Protein 44g

Vitamins based on percentage of a 2000 calorie diet.

Vitamin A - 22%
Vitamin C - 75%
Calcium - 5%
Iron - 24%
---
Check out more stove top recipes like this Chicken Stir Fry Recipe.

If you have you tried this recipe out, please let me know what you think by contacting me or share the recipe on Facebook letting your friends know what you think.