Crock Pot Meals the Whole Family Will Love
Crock pot meals are great when you have a lot of different ingredients but don't know what to cook. Slow cooking your meats and vegetables together can save a lot of time in the kitchen and a wholesome dinner will be ready for you when you and your family gets back to the house in the evening.


My wife is always throwing something together in the slow cooker. It has a digital timer and three heat settings that make it a perfect cooking device for any meal. It does all of the cooking while we are away from the house and fills the house with the beautiful smells of cooked food when you arrive home.
Once home, the meal is pretty much ready to serve.
---

Compilation of Crock Pot Meals for Dinner

The following is a compilation of various crock pot meals that you can cook for two or more people for a healthy, fast dinner. Pick which one works for your meal tonight and get to cooking.


---

Scalloped Potatoes, Corn, and Ham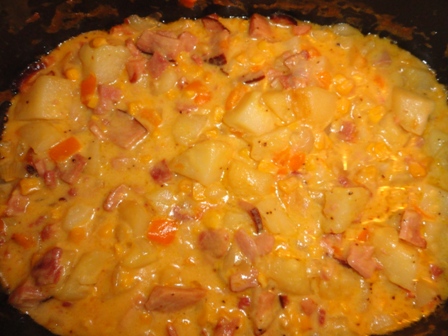 Six (6) Cups Peeled Russet Potatoes Cut in One (1) Inch Cubes
One and a Half (1 1/2) Cups Cubed Cooked Ham
One (1) 15.25 oz. Can Green Giant Whole Kernel Sweet Corn (Drained)
One Quarter (1/4) Cup Chopped Green Bell Pepper
One Half (1/2) Onion (Medium Chopped)
One (1) 10 3/4 oz. Can Campbell's Cheddar Cheese Soup
One Half (1/2) Cup Milk (or Evaporated Milk)
Two (2) Tablespoons All-Purpose Flour (or wheat flour)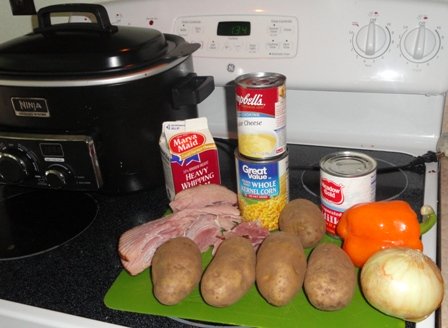 Preparations:


In 3 1/2 to 4-quart crock pot, combine the potatoes, ham, corn, bell pepper and onion. Mix them until blended together. In a separate small bowl, combine soup, milk and flour. Beat with wire whisk until smooth.

Pour soup mixture over potato mixture in the crock pot. Stir gently with a wooden spoon to mix the cheese sauce into the potatoes.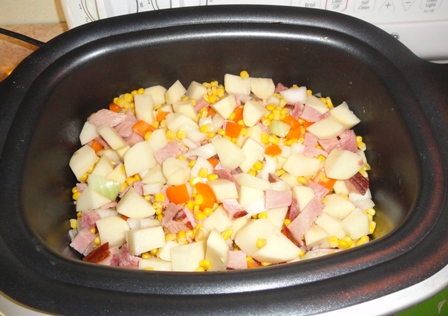 Cooking:

Place the lid on the crock pot. Set the slow cooker on low setting for seven (7) to nine (9) hours or until potatoes are tender.

Note: Potatoes will cook faster when cut into small, thin pieces. Cubed potatoes will cook faster than quartered potatoes. The 1-inch chunks of potato in this particular recipe work well since they don't get too soft during the long cooking time.

Substitutions: Leftover cooked roast beef, chicken or turkey can be used in place of the ham to make similar crock pot meals. You can also use one (1) can of condensed low fat cream of mushroom soup in place of Cheese soup for a completely different taste.
---

All Day Macaroni and Cheese


Crock pot meals such as this one are favorites not only for children, but adults love them too. There is so much you can do with mac and cheese. Use this crock pot recipe as a base for a creative meal idea.

Ingredients: Serves 4

Eight (8) Ounces Elbow Macaroni
Four (4) Cups of Shredded Sharp Cheddar Cheese (from a block)
One (1) Can (12 Ounces) Evaporated Milk
One and a Half (1 1/2) Cups Milk
Two (2) Eggs
One (1) Teaspoon Salt
One Half (1/2) Teaspoon Black Pepper

Preparation:

Bring 2 cups of water to a boil on the stove top and add eight (8) ounces of elbow macaroni. Cook the macaroni until it is soft. While this is boiling, shred four (4) cups of sharp cheddar cheese. Remove the elbow noodles from the heat and strain with a colander.

Spray the inside of your crock pot with nonstick cooking spray. Pour the cooked macaroni noodles into the crock pot. Add the evaporated milk, milk, eggs, salt, and pepper. Add three (3) cups of the sharp cheddar cheese and stir all of the ingredients together until it is mixed well. Add one (1) cup of shredded cheese to the top of the mixed ingredients and cover.

Cooking:

Turn on the crock pot to a low setting and cook for five (5) to six (6) hours or until the mixture is firm and golden around the edges.

Note: Do not remove the cover or stir until it has finished cooking.
Substitutions: Add hamburger, ham, cubed chicken, or broccoli for added flavor and nutrition. You can also use Velveeta Cheese instead of block cheese, but sacrifice the healthy side of this dish.

---

Crock Pot Barbecue Chicken

Crock pot meals wouldn't be complete without a great barbecue chicken that has been cooking all day. This recipe has great flavor and the chicken melts in your mouth.

Ingredients: Serves 4 to 6

One (1) Whole Chicken or a Pack of Six (6) Pieces (any cut will do)
One (1) Can Campbell's Tomato Soup
Three Quarters (3/4) Cup Chopped Onion
One Quarter (1/4) Cup Vinegar
Three (3) Tablespoons Brown Sugar
One (1) Tablespoon Worcestershire Sauce
One Half (1/2) Teaspoon Salt
One Quarter (1/4) Teaspoon Sweet Basil
One Quarter (1/4) Teaspoon Thyme

Preparation:

Quarter the whole chicken or use pre-cut pieces of chicken (breasts, thighs, legs, or wings) and place in the crock pot. Combine all of the other ingredients in a small bowl and pour over the chicken.

Cooking:

Place a lid on the crock pot and turn it on the low setting for six (6) to eight (8) hours for the perfect barbecue chicken.

Substitutions/Additions: If you like barbecue flavored beans, add some baked beans to the barbecue mixture in the crock pot for some slow roasted barbecue beans.


---
More recipes will be added to the crock pot meals. If you have any crock pot meals you'd like to share, be sure to send them to me and I will add them to the page.