Grill London Broil for Dinner

Grill London Broil for an alternate to a roast. There is no actual cut of meat known by the name London Broil, but a butcher may label it as such. It is a tougher cut of meat, either a flank or top round cut of beef, but depending on how you cook it, it can be the tastiest steak you've ever sunk your teeth into.  It's all about how it is prepared and cooked.


It can be cooked using many different methods. The most common is either broiled or grilled, but the tastiest way to cook up this roast sized cut is on the barbecue grill. Using an easy to learn technique, you can make the meat juicy and not so tough.

Depending on how much flavor you want, you should marinade the meat for several hours, but I've found just adding a good rub to the meat, poking it a few times with a large fork, and pouring Worcestershire Sauce on it while it cooks will add just the right amount of flavor.

The texture of the meat when cooked to 145 degrees is similar to roast beef. It may be very red and rare looking. For a perfect medium, cook until the center temperature is 154 degrees. It will be a little tougher, but tastes just as good as the less cooked meat.

When served, the meat should be cut across the grain in thin strips, but can be cut to a half or three quarters of an inch for small steaks. Either way, everyone will enjoy the flavor of the London Broil on the grill.


---
Grill London Broil
Ingredients:

Two and a Half (2 1/2) Pound London Broil (Flank or Top Round)

One Quarter (1/4) Cup Olive Oil (or vegetable oil)
One (1) Table Spoon Celery Salt
One (1) Table Spoon Garlic Powder
One (1) Table Spoon Black Pepper
One (1) Packet of Wish Bone Robusto Italian Seasoning Mix
One (1) Bottle of Worcestershire Sauce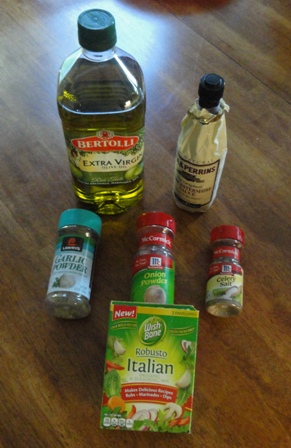 ---

Preparing your London Broil for the Grill

Coat the entire cut of meat with olive oil so the whole piece has a shiny look. Sprinkle celery salt, garlic powder, black pepper, and Wish Bone Italian Seasoning Mix (you should only use about half of the packet) generously over entire beef round or flank.


Using a large fork, vigorously poke holes all over the meat to push some of the rub into the meat. This also helps tenderize it if it is a tougher cut of meat or if it has been frozen.
---

Cooking the London Broil on the Grill

Heat the barbecue grill to 400 degrees Fahrenheit. I have a five burner grill and leave the center burner off. If you have less burners, leave one off (preferably a middle one) so you can have indirect heat.

Place the meat on the grill rack to sear for one minute per side above the direct flames, then move off of the direct heat to a spot above your secured burner. Turn down the grill heat to 375.

Grill London Broil to perfection by flipping the meat in ten (10) minute intervals two times. At this point you will start flipping the meat every five (5) minutes and add Worcestershire Sauce and Wish Bone Italian Seasoning to the meat on every flip.

Cook the meat for a total of one hour or until the meat is 145 to 154 degrees internal temp and remove.



Slice the against the grain to desired thickness and serve.
---
Grill London Broil for dinner and change the recipe to make it yours, then share your recipe. We are always looking for more recipes to share with our visitors. Contact me to add your recipe with recognition to the site.