Guamanian Chicken on the Grill!
My Guamanian Chicken cooked to perfection on the grill is one of my best recipes passed down from a friend of mine who was from Guam. Every year he has a huge cookout with his best Guamanian recipes, and this one is by far my favorite to make and favorite among my friends.
It's all in the marinade and cooking temperature that makes the most perfectly cooked and tasting chicken you've ever put into your mouth. It literally melts in your mouth and stimulates all of your taste buds.

When you have two women at one sitting say "this is the best chicken they've ever eaten", you know you must be doing something right (especially when you are a guy).

This special recipe takes a special touch, and I am sorry but this isn't a quick and easy choice for dinner. This dinner recipe takes a while to prepare and cook, but your family and friends will be very impressed.

You don't want the grill too hot when cooking your Guamanian chicken, otherwise it's tough and doesn't taste as good. Hot or cold though, the end product makes you want to eat more and more until it's all gone. Even your kids will love it.

I've added my Guamanian Chicken recipe for all to enjoy.


Update for This Recipe Page


Grilled Guamanian Chicken is great, but I'm going to be experimenting with this fabulous recipe to see if I can make it better. Keep an eye out for this great recipe cooked in a pressure cooker. My wife has been going wild with pressure cooker recipes ever since Christmas and the flavors of this recipe should be perfect with the pressure pushing them into the chicken as it cooks. So stay tuned and like this page.
---

Grilled Guamanian Chicken!
Ingredients for Six Servings:

Two (2) Pounds of Skinless Chicken Thighs or Breasts (thighs work the best)
Four (4) Tablespoons Olive Oil
Four (4) Tablespoons Sesame Oil
One (1) Tablespoon Minced Garlic
One (1) Teaspoon Ginger (powder or fresh) (Optional)
One (1) Bunch Green Onions (chopped)
One (1) Cup Sugar (or 3/4 cup of Splenda)
One (1) Cup Soy Sauce
One (1) Cup Water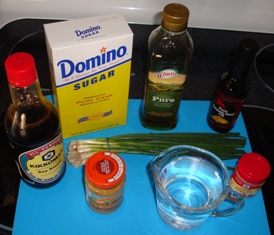 Just to let you know, no one eats just two pieces of this fabulous chicken. If you have six people over for dinner, you may want to double the recipe. Just saying.


---

Preparations
Pour the soy sauce, water, minced garlic, and ginger in small pan and turn stove top on medium low heat.

NOTE: DO NOT BOIL!

Once liquid is warm, pour sugar in pan while stirring, making sure all sugar is dissolved in mixture. Remove from heat immediately after the sugar is dissolved.

Pour mixture in a mixing bowl and add olive oil, sesame oil, and green onions to the marinade. Stir thoroughly.

NOTE: Oil will layer on top of liquids no matter how hard you stir. So don't go crazy trying to blend it all together.

Pour a 1/2 cup of the marinade in a separate cup for basting the chicken while cooking.

Place the chicken breasts or thighs on a cutting board and slice each piece four to five inches long and one to two inches wide. Pull off any excess fat or skin form the chicken slices.

Add the chicken to the bowl of marinade. Take a large fork and vigorously poke holes in each piece of chicken to help the awesome flavors sink into the meat. Seal the bowl and refrigerate until ready to cook (at least 30 minutes). It is best to marinade the chicken overnight for best results.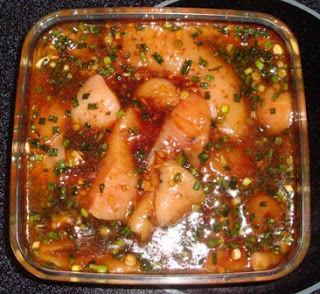 SIDE NOTE: I prefer using vacuum sealed containers to help marinade the chicken. If this is done, you only require about five to ten minutes to marinade the Guamanian Chicken.
---

Cooking the Guamanian Chicken
Now you are ready to grill the chicken. I use a gas grill with five burners. I haven't tried this Guamanian recipe on a charcoal grill and I wouldn't recommend it due to lower heat needed to cook the chicken to minimize flames.

Pre-burn the grill to burn off all germs and bacteria from the grill grate. Once clean, turn down all burners to low and leave the grill lid open for three to five minutes to cool.

Depending on how many pieces of chick you have, place the Guamanian Chicken evenly throughout the grill starting from the center and working your way out toward the sides. Use indirect heat if possible (not always possible on smaller grills, but not critical).
Turn off every other burner, or on a three burner grill, the center burner. Leave the two end burners on low to medium low and basted the chicken with the left over Guamanian marinade (not the marinade you set aside - that is for future basting while cooking). Close the lid on the grill.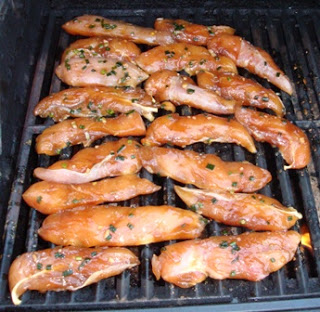 Flip the chicken strips every four minutes, basting each piece on every flip. The key to perfection is not to get the grill too hot and flipping it on the four minute mark. If you see flames (because of the oil dripping), immediately turn off the grill, spray at the base of the fire with water, and quickly move any chicken from the direct flames.

If you can't achieve indirect heat for all of the chicken, during the flips you can move the chicken around the grill, moving the pieces that were over the flames into indirect heat areas and vice versa.

Final cooking time should be no more than twenty-five minutes (or six flips). On the final flip, do not baste the chicken.

The temperature of the center part of the chicken should be 160 degrees and continue to rise to 165 once removed from the grill. If you don't have a thermometer, can also cut into one piece of chicken and make sure it isn't pink or bleeding. If it is still bleeding, continue cooking and flipping chicken until it is done.

Remove chicken from the grill and serve.
---

Nutritional Information
The above Guamanian Chicken recipe makes about six meal servings (2 pieces of chicken per person). (The below nutritional facts are estimated for one serving of 2 pieces of chicken.)

Calories 200

Total Fat 8g
Saturated Fat 2g

Cholesterol 45mg
Sodium 730mg

Total Carbohydrates 7g
Sugars 6g

Protein 23g


Iron 2% (based on a 2000 calorie diet)
---
Learn about the history of Chamorro food and diet to see that they've always fostered a healthy diet since ancient times.

Check out more barbecue recipes like this recipe for Guamanian Chicken. If you have tried this recipe out, let me know how it goes. Please comment below and share the page with your friends.