Pulled Pork in Crock Pot
Pulled pork in crock pot is the fastest and most efficient way of getting this great meal home cooked with a professional taste. Pulled pork is great anytime, but it doesn't always have to be cooked on the grill or in a smoker. Don't let the word "barbecue" fool you in this recipe. Simply adding barbecue sauce to something can make it barbecue.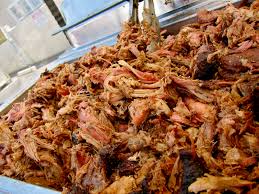 Grilling and smoking pork loin to create pulled pork is a lengthy and risky task, especially if you want it to pull apart easily. If you cook it too fast, too long, too hot, or too much on one side, it will be tough and hard to pull.

That's why I prefer to use a crock pot for pulled pork. The combination of tender pork that falls apart and deep flavor make it the perfect way to create this barbecue tasting favorite.

Pork is naturally a tougher meat. It is very coarse and can get very tough when you cook it quickly. A crock pot allows you to slow cook a cut of pork so it stays soft throughout and is perfect for sandwiches or served by itself.

Selecting the right pork loin can be a tedious task. You must choose one that has not been marinaded in its packaging. It should be at least two inches thick and no longer than the size of your crock pot.

Choosing what to flavor your pulled pork with is what the recipes are all about. If you are cooking for a larger group, a more traditional pork flavor should be cooked. But if you are cooking a smaller meal for just your family, you can experiment a little with the pulled pork in crock pot to make it different.

Enjoy my recipe for pulled pork.


---

Barbecue Pulled Pork in Crock Pot

Ingredients (makes about eight servings):

Two (2) Pounds of Boneless Pork Loin or Larger Cut of Pork
One (1) Cup Chopped Sweet Onion
One (1) Cup Chopped Red Apple
Three Quarters (3/4) of a Cup Flavored Diet Soda Water
Three Quarters (3/4) of a Cup Barbecue Sauce (your choice of pre-made or homemade using the additional ingredients listed below)

Ingredients for Barbecue Sauce for Pulled Pork (makes about 1 1/2 cups of BBQ sauce):

One Quarter (1/4) Cup of Apple Cider Vinegar
One (1) Cup Ketchup
One Half (1/2) Cup Water
Three (3) Tablespoons Light Brown Sugar
Two (2) Tablespoons Sugar (or 1 1/2 tbsp Truvia)
One Quarter (1/4) Tablespoon Ground Pepper
One Quarter (1/4) Tablespoon Onion Powder
One Half (1/2) Tablespoon Yellow Mustard
One Half (1/2) Tablespoon Lemon Juice
One Half (1/2) Tablespoon Worcestershire Sauce


---

Preparations for Pulled Pork

It's very easy to prepare your pulled pork in crock pot, unless you want to go all out and make your own barbecue sauce for the pulled pork. This is highly recommended because it tastes so much better. If you plan on using your favorite barbecue sauce from the bottle, skip the preps for making the sauce.

Making the Barbecue Sauce for Pulled Pork

Combine all of the barbecue sauce ingredients in a large pan and bring to a boil on the stove top. Reduce heat to low or simmer and cook uncovered for thirty (30) minutes, stirring often. This makes about 1 1/2 to 2 cups of barbecue sauce.

You will be using 3/4 of a cup of the sauce for cooking the pork loin in crock pot. Keep the rest for people to pour on their pulled pork after it is served.

Preparing the Meal

Chop a cup's worth of sweet Vidalia onion and a cup's worth of red apple. Add half of each into the bottom of the crock pot. Remove any excess fat from the pork loin and place in crock pot on top of the first layer of onions and apples. Pour the rest of the onions and apples on top of the meat. Pour 3/4 of a cup of diet soda (any flavor - used for tenderizing the meat) and 3/4 of a cup barbecue sauce into the slow cooker. The liquid should evenly spread around the pork.

NOTE: The pork loin should be totally submerged in the sauce. If not pour a little water in the pot until it is submerged. Be aware that the meat may float to the top.


---

Cooking the Pulled Pork in Crock Pot

Place a lid on the crock pot and turn it on high heat for five to six hours. At this point, test the meat to make sure it is very tender. If you can't be there to test it, make sure the temperature will automatically lower to warm so it will not cook any further.

Carefully drain all of the sauce from the crock pot and place the cooked pork loin on a cutting board. Shred the pork with a dinner fork. The meat should pull apart very easily. Try not to eat too much as you pull.

Your barbecue pulled pork in crock pot is ready to serve.


---
If you like this recipe, like it and let everyone know what you think by adding a comment in the box above. If you've changed the pulled pork in crock potrecipe, be sure to send it to me to add to the site. You will be entered for a chance to win a prize in the 2015 Best DinneRecipe Contest.