Recipe for Potato Salad



My recipe for potato salad is how my mom makes this great side dish for dinner. She usually saved it for larger cookouts or potluck dinners, but it is a great side dish for any family dinner as well.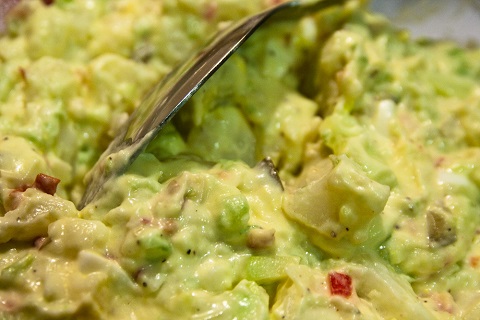 Although this is called a salad, it is commonly used as a side dish for dinner or during cookouts. There are many different versions to this dish which makes this a cook's favorite because you can easily change it up to fit your needs.
Potato salad recipes are prepared and served all over the world to complement many different meals. This particular recipe is a perfect side dish for BBQ recipes, but can be made for any type dinner.
A large family dinner just wouldn't be the same without a helping of potato salad. This semi-healthy side serving is the more common type you would find in the store but tastes so much better as it is freshly made with great ingredients.

Of all the potato recipes out there, this is the one I love the most. Besides German Potato Salad which is my favorite, I will eat this one whenever I get a chance.

I hope you enjoy this recipe for potato salad as it will give you the opportunity to make a potato salad that you can say didn't come from the store.


---

Traditional Recipe for Potato Salad


Ingredients:

Five (5) Whole Potatoes
Three (3) Large Eggs
One (1) Cup Chopped Celery
One Half (1/2) Cup Chopped Onions
One Half (1/2) Cup Sweet Pickle Relish
One Quarter (1/4) Teaspoon Garlic Salt
One Quarter (1/4) Teaspoon Celery Salt
One (1) Tablespoon Prepared Mustard
One (1) Teaspoon Ground Black Pepper
One Quarter (1/4) Cup Mayonnaise


---

Preparations:

Bring a large pot of salted water to a boil. Add potatoes and cook until tender but still firm (approximately 15 minutes). Drain, cool, peel, and chop potatoes.

Place three (3) eggs in a saucepan with cold water. Bring water to a boil; cover and remove from heat. Let the eggs stand in the hot water for ten (10) to twelve (12) minutes. Remove the eggs from hot water, cool, peel, and chop.

In a large bowl, combine the potatoes, eggs, celery, onion, relish, garlic salt, celery salt, mustard, pepper and mayonnaise. Mix together well and refrigerate until the salad is chilled.

Serve this potato salad recipe as a dinner side dish. Everyone is sure to love it.


---

If you have another recipe for potato salad, please send it to me and I will add it to my site.