Shish Kabob Recipe for the Grill
My shish kabob recipe is a combination of seafood and meat, as well as vegetable and fruit, for a full all around meal that the whole family will enjoy. It can be boring adding just one type of meat on a kabob, so I added three to this one.



This surf and turf dinner contains shrimp, scallops, and beef, just because they all sounded good at the time. The only problem with making kabobs is the time it takes for preparations.

When preparing your sticks, you need to think about what can go good with your main course selection. Vegetables go great with meat, but fruit goes perfect with various seafood.

I chose onions and pineapple for my kabobs because these just add the best flavor to the meat. You can also add green, red, or yellow peppers to add color and flavor.

There are so many things you can do with kabobs. Your dinner creation depends on your creativeness and what you have a taste for. Of course, how you build them is up to you, but my recipe should guide you in the right direction.

One thing to remember when cooking several different types of seafood or meats at the same time is that not all types of foods cook at the same rate or temperature. Just because it looks done, doesn't necessarily mean it is done. This is where cooking times for meat, cooking times for seafood, and their associated cooking temperature come into play.

What I do to try to get everything cooked right is pick an average temperature that will cook everything, but pick the longest cooking time. Check each meat for center temperatures and how it looks. Foods that you are used to frying or baking may have a different feel about them when cooked on the grill.

Have fun when preparing and cooking your shish kabob recipe. And most of all, enjoy a great meal cooked on the grill.


---

Shish Kabob Recipe - Steak, Shrimp and Scallop Kabobs

Ingredients:

One (1) Pound Steak (Any Cut)
One (1) Pound Shrimp (Deveined, Easy Peal)
One (1) Pound Scallops
One (1) Whole Onion
One (1) whole Pineapple or Container of Pineapple Cubes
Two (2) Packets of Grill Mates Island Woodfire Grill Marinade
Half (1/2) Cup Olive Oil
Four (4) Tablespoons Water
Four (4) Tablespoons Apple Cider Vinegar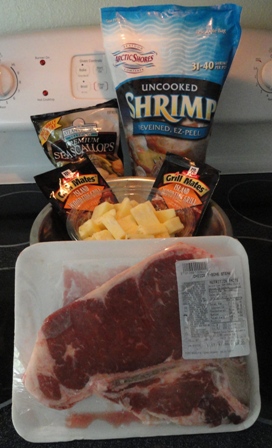 ---

Preparing Your Kabobs
To prepare for this shish kabob recipe, you will need two separate cutting boards (or clean the cutting board and knife when cutting different meats), a sharp knife, a bowl for the marinade, four skewers, and a nice clean space to work.

Cut the beef into 1 inch cubes. Remove excess fat from the meat (if desired). Thaw the shrimp and peal an adequate amount.

NOTE: It takes longer to cook the shrimp if they are in their shells. Removing the shells is optional, though recommended to speed up cooking time and not to overcook everything else.

The scallops should be thawed and ready to go. Cut up whole onion into quarters and peal back larger pieces of the onion. These are the pieces you will use for your shish kabobs. Cut up one whole pineapple or use cubed fresh pineapple to save time.

Pour the two packets of Grill Mates Island Woodfire Grill as directed on the back of the package using the oil, water, and vinegar in a small bowl. Stir until the marinade is thoroughly blended.
Now you must choose how to dress your skewers. I chose to place a slice of onion first, followed by beef, pineapple, scallop, shrimp, pineapple, scallop, shrimp, pineapple, beef and onion. You can decorate them any which way you want, but this made the most sense with the ingredients I had to work with.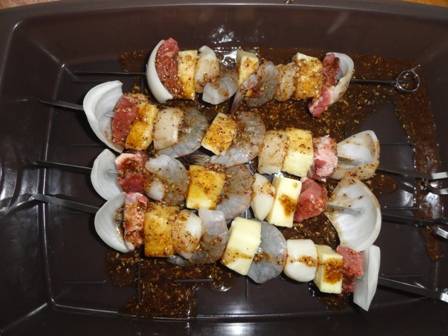 Place all of the fixed kabobs in a shallow dish and pour the marinade mix evenly over each of the sticks. They are now ready to cook. Be sure to keep them refrigerated until you are ready to place them on the grill.
---

Cooking the Kabobs on the Grill
Cooking your shish kabob recipe on the grill can be challenging, especially if you don't have a good heat resistant glove. The skewers get very hot and will burn your fingers if you try to touch them. You must us a glove that has fingers so you can effectively grip the kabob stick and roll it at the halfway point of cooking.
Preheat your grill to 350 degrees. Carefully place the kabobs in the grill so the tip of the skewer is braced between two rungs of your barbecue grate. This will ensure the round part of the skewer (the handle) is up off of the grilling grates so they are easier to pick up.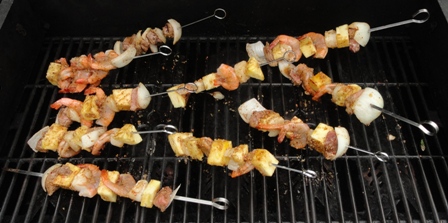 Close the grill and cook for ten (10) minutes. Flip the skewers over at this point to ensure your kabobs are cooked all of the way through. Let them cook for about ten (10) more minutes and they should be ready to serve.
NOTE: If you have the shrimp in their shells, you may need to cook the kabob an additional five (5) minutes to ensure they are done.

Let them sit for the skewers to cool if you are going to serve them with the sticks or scrape all of the food onto a plate with a dinner fork.
---
If you like this shish kabob recipe but have one better, send it in. You will be entered in the 2015 Cooking Competition and eligible to win a prize.